One organisation that is represented across Australia is nominated by our employees. This time, our team members.

+100 Points
Account Sign up

B'day Treat
Add your Birthday

+120 Points
Get App + Notifications



+50 Points

Instagram Follow







+30 Points
Account Sign up

B'day Treat
Add your Birthday



+10 Points
Instagram Follow





The perks of being royalty.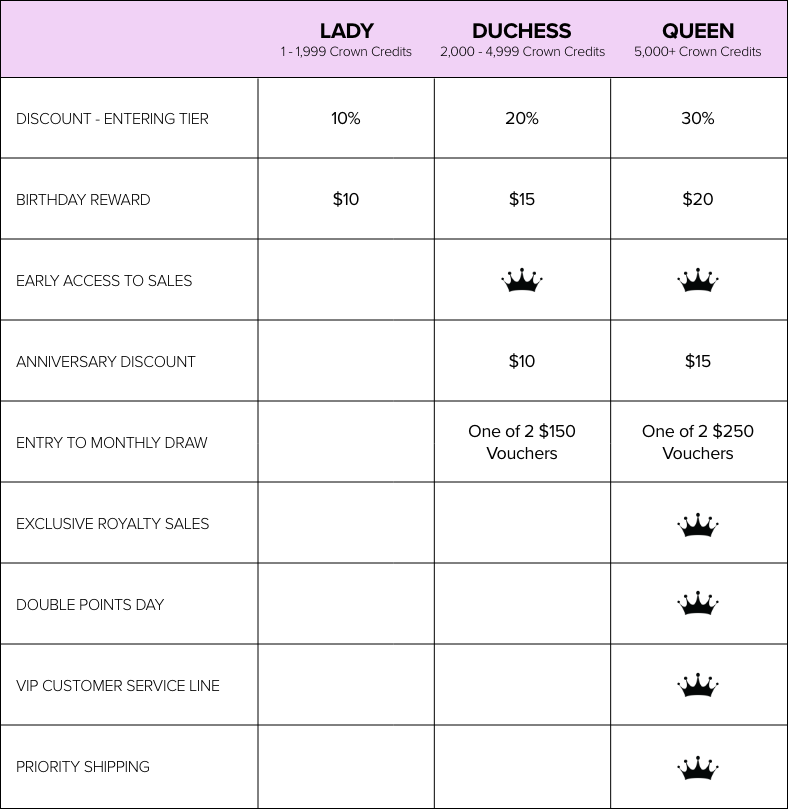 How do I become a Royalty Member?
All you need to do is create an account here. If you already have an account and purchased within the last 12 months, you were automatically enrolled in the program. Be sure to sign up to receive our emails to redeem further perks sent directly to your inbox – Just sign up here.
When did the rewards program launch?
We launch You + All Royalty on the 15.09.22. If you were a regular customer within the last 12 months, you are automatically registered and, on your way to becoming a royal Queen.
You can earn 10 Crown Credits for every $1 spent at You + All online. You can also earn Crown Credits by completing different activities.
You can redeem your Crown Credits for 'Dollar Off' vouchers. Once you have enough points, you will be able to view this in checkout to redeem accordingly. You cannot redeem points on gift cards, or any orders paid using a store credits or gift card.
When do my points expire?
If your account is inactive for 12 months, your Crown Credits will expire. After this time, you will remain in your current tier and still receive the tier perks, however, you won't be able to redeem points accordingly.
When will my Crown Credits be added to my account?
Your credits will be added to your account after 30 days, as there will be no credits awarded for returned items.
Unfortunately, our Royalty Program is only valid for online and app purchases. However, we have something exciting in the works for in-store purchases.